Davis Cup CAN vs. SPA – The Crazy Canucks 2.0
CANADA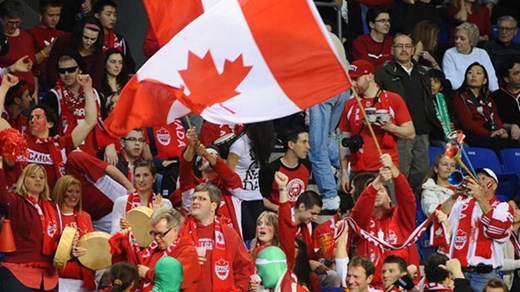 The Red-and-White has never advanced into the second round of World Group competition, but that may change as soon as this weekend.  Not only will the Spanish team be without its top four singles players, but the Canadians will be bringing serious firepower in the form of its best Davis Cup team ever assembled.  Even the practice squad assigned to give the A-Team a good workout before the tie, composed of Jesse Levine, Adil Shamasdin and Filip Peliwo, possesses a better tennis pedigree than some of the Canadian DC teams of years past.
Starting this Friday February 1st, the Canada-Spain tie will take place on a fast indoor hard court at the Thunderbird Sports Center, located on the UBC campus in Vancouver, British Columbia.  Captain Martin Laurendeau's troops will have a chance to make history with a win over Spain.  Here's how I see the weekend playing out:
Milos Raonic


Singles ranking: 15
Doubles ranking: 182
After dropping the first set of his 2013 Australian Open campaign against journeyman Jan Hajek, Raonic won his next nine sets played in Melbourne before being defeated by Roger Federer in straight sets.  In that span of time, he won all three tiebreaks played and broke serve 11 times.  That's a pretty nice run of form for a guy not especially known for his returning prowess.  Milos' foot gave him some issues after the Federer match, but the problem did not seem to be severe; he should be fully fit by the time the tie gets underway.
The underrated aspect of Raonic's biggest weapon is the unprecedented variety he is able to create off of his serve.  While other tour giants like John Isner and Ivo Karlovic can hit the serve just as hard, if not harder, Raonic stands out because he can slow the ball down and play around with spin much more effectively.  He can hit the first serve down the T at 145mph, slice it out wide at 110mph or hit a vicious kick serve which bounces ten feet high and five feet to the returner's left at 95mph.  That 50mph split between his fastest and slowest first serves adds a whole other layer of complexity for his opponents to deal with.  While his toss is a bit easier to read than a Federer's, as he will throw the ball farther to his left when going for the kicker out wide, Milos puts so much action on the ball that it doesn't matter – you'd be hard pressed to make a good play off the return even if you cheated and moved ahead of time.
While Milos is the strong favorite in both of his singles matches, I don't foresee his matches being straight-set cakewalks.  Off the ground, Marcel Granollers is the type of player who can give him some trouble by taking the ball early and by hitting the ball softly enough to make Milos bend down and generate all the power.  We saw that from Jan Hajek in Melbourne and from Santiago Giraldo at the US Open last year (Milos went down two sets to one before settling down and winning the match in five sets).  Spain's other singles player, Guillermo Garcia-Lopez, hits the ball flat and can utilize the speed of the court surface in Vancouver to push Milos behind the baseline and force the Canadian into making low-percentage plays from beyond the tramlines.  Still, the best-of-five sets format should allow Milos to find his bearings were he to make a sub-par start.  Given the conditions, it's hard to bet against him.
Projected Results:
2-0 in Singles
Daniel Nestor


Singles ranking: -
Doubles ranking: 4
While Daniel Nestor is undoubtedly the best Davis Cup representative Canada has had over the years, he is, at age 40, also the oldest player by far involved in the tie (a full 10 years older than Marc Lopez, the most senior member of the Spanish team).  Not only is Nestor coming off a 2012 Davis Cup season where he went 0-2 in doubles (he is 29-6 in his whole career), but he will be taking to the court with a partner with whom he plays no more than twice a year (probably Vasek Pospisil).  Considering that the Spanish pairing of Granollers and Lopez play together on the ATP Tour week in, week out, there will be some serious hurdles to overcome for Nestor and his partner this Saturday.
Nestor played twice against Granollers-Lopez in 2012.  Both matches were played on hard courts and won by the Spanish pairing in straight sets.
While the change in the ATP rules (putting in place a match tiebreak instead of a deciding set in the majority of doubles tournaments) has helped extend Nestor's career, this also makes him vulnerable at Wimbledon and in Davis Cup, the only occasions where doubles specialists are asked to play best-of-five set matches.  While a positive doubles result was as good as money in the bank for Canadian DC squads of the past, this time Nestor will be the clear underdog.
Projected Results:
0-1 in Doubles
Frank Dancevic

Singles ranking: 166
Doubles ranking: 1164
Dancevic mainly competes on the Challenger circuit nowadays, against players ranked between 80th and 200th in the world.  To get a point on the board for Canada, Dancevic will somehow have to break a five-year drought.  His last best-of-five-set win over a play ranked inside the world top 100 came in the first round of Wimbledon back in 2008 (he beat #7 David Nalbandian in straight sets).
Dancevic's fate in the tie will not only depend on how well he plays in his first match, but also on the luck of the draw.  Facing world #34 Marcel Granollers on Friday would be bad for Frank's chances, since the Spaniard is used to facing serve-and-volleyers, thanks to his doubles experience, and can use his service return to negate the Canadian's biggest weapon.  Dancevic may have a better chance against #82 Guillermo Garcia-Lopez, against whom he is 2-0 lifetime.
Projected Results:
0-1 in Singles
Vasek Pospisil

Singles ranking: 131
Doubles ranking: 305
Pospisil's singles ranking has dropped outside of the top 100, from a career-best #85 achieved in July 2012, due to a bout with mononucleosis which forced him to miss the Australian Open.  Vasek has yet to play a match in 2013 and has not won an ATP match since Vienna in October 2012.  Still, Vasek has more Davis Cup singles experience than the entire Spanish team despite being only 22 years of age.  The fast indoor court will enhance his first serve effectiveness and allow him to marshal his energy to get that crucial break each set.  He put together a heroic effort to get Team Canada into the World Group back in 2011 and may be able to close out the tie for Canada on this occasion as well.
The biggest question for Captain Martin Laurendeau is how to best utilize Pospisil.  Depending on the draw, he might decide to rest Vasek on Day 1, play him in doubles with Nestor on Day 2, and then have him play the deciding single rubber on Day 3.  It's difficult to speculate, but we will find out soon enough!
Projected Results:
1-0 in Singles
0-1 in Doubles
Prediction:
Day 1:
Raonic def. Garcia-Lopez
Granollers def. Dancevic
Day 2:
Granollers-Lopez def. Nestor-Pospisil
Day 3:
Raonic def. Granollers
Pospisil def. Garcia-Lopez
Canada def. Spain, 3-2
I will be flying to Vancouver to cover the tie live for Tennis Connected.  Follow me on Twitter at @KSplayersClub and on Instagram at @Soireeculturelle