AO 2013 Upset Alerts – Federer Out in Round 1?
Jack Han's (@KSplayersclub) Australian Open Upset Alerts – First Round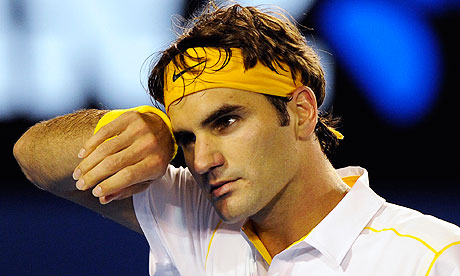 David Goffin vs. Fernando Verdasco (22)
The pair has never played each other, but I quite like Goffin's chances here.  Verdasco's winning percentage went from 70% in 2009 (the year of his semis run here) to 60% in 2010, 59% in 2011 and 52% last season.  Look for Goffin to outmaneuver the Spaniard not by hitting harder, but by taking the ball earlier and controlling the center of the court, forcing Verdasco to hustle and hit on the run from deep behind the baseline.
Goffin in 4
Grigor Dimitrov vs. Julien Benneteau (32)
After watching Dimitrov gut out a tight three setter against Baghdatis in Brisbane and play credibly against Murray in the final there, I can say that the Bulgarian is going to do big things in 2013.  The serve and the forehand used to be a bit lacking in sheer pace, but that's beginning to change.  His serve has definitely gained some pop (he hit a couple of serves above 130MPH against Murray) and his forehand has gotten noticeably heavier.  Dimitrov could be a bit more aggressive on his inside-out forehands, but he is definitely hitting the shot better now than this time last year.  He has squared off against Benneteau on two occasions, winning both times.  The last encounter was a 7-6 6-7 7-6 nail-biter in Basel.  It will be a competitive match, but Dimitrov is the favorite here despite the seeding saying otherwise.
Dimitrov in 3
Lleyton Hewitt vs. Janko Tipsarevic (8)
The local hero leads the head-to-head 3-1 (though they haven't played each other since 2009, before Tipsarevic's entry into the Top-10).  Given his good form in Kooyong, Hewitt definitely still has the game to make a deep run in Melbourne.  Old guy, raucous hometown crowd, center court, something about it just feels right.  Connors in five….I mean…
Hewitt in 5
Marinko Matosevic vs. Marin Cilic (12)
Cilic won their only career meeting at the US Open last year, 6-4 in the fifth.  Matosevic was actually up two sets to love on that occasion, so he'll be well motivated to get across the finish line this time.  Playing in front of his home crowd will help a bit.  No matter who wins, this'll be a long, hard-fought street fight of a match.
Cilic in 5
Gael Monfils vs. Alexandr Dolgopolov (18)
Though I don't really see an upset developing, this is must-watch tennis.  Anything can happen here; expect the unexpected.
Dolgopolov in 4
Rhyne Williams vs. Florian Mayer (25)
Williams got his wildcard the hard way, by earning it in the USTA playoffs.  His typical American power game matches up well against Mayer, whose forehand slice and off-speed serve work better on clay or grass than on the slow-ish hard courts in Melbourne.  If Williams can stay patient and hit through Mayer's junkballs, he has a decent chance.
Williams in 4
Michael Llodra vs. Jo-Wilfried Tsonga (7)
On paper, this matchup doesn't look particularly appealing.  Tsonga is 5-0 against his countryman and has a vastly superior record over the past 52 weeks.  However, as Llodra's surprise run in Paris-Bercy last fall illustrates, he can beat anyone on a given day by rushing the net and making his opponents hit the pass.  In addition, three of his losses against Tsonga were due to retirements.  The two times he was able to play out the full match, Llodra was highly competitive and pushed Tsonga to the brink (4-6 6-4 6-4 and 7-5 7-6).
Tsonga in 5
Benoit Paire vs. Roger Federer (2)
Federer rolled through Paire 6-2 6-2 in Basel a few months ago, but the Frenchman is a tricky first-round draw for sure.  He's another guy in the Dolgopolov/Tomic mold, a streaky but brilliant shot-maker who can make both his opponent and himself look stupid on successive points.  At least against Federer, you would think that Paire will respect the occasion enough to not hit backhands ten feet out on purpose.  In fact, not only will he not tank, but I think Paire will be able to put a serious scare on Roger.  Look for the Frenchman to go up a set and a break before normal service resumes, so to speak.
Federer in 5