AO Abstract Part 6: Bracket Breakers – Tomic, Dimitrov and Co. Analyzed
Is there such a thing as statistically rigorous tennis commentary? If such a thing can exist, then this is what we setting out to achieve with this multi-part series.  In tennis, until very recently, fans and journalists tend to measure a player's talent with subjective criteria such as the fluidity of his one-handed backhand or with relatively one-dimensional numbers such as the speed of his first serve.  A case can be made that there's much more to tennis than that.

Preamble: http://tennisconnected.com/home/2012/12/25/australian-open-abstract-%e2%80%93-the-comprehensive-guide-to-the-first-grand-slam-of-2013-preamble/

Part 1: http://tennisconnected.com/home/2012/12/27/australian-open-abstract-part-1-player-previews-the-old-guards-class-of-1996-2000/

Part 2: http://tennisconnected.com/home/2012/12/28/australian-open-abstract-part-2-player-previews-%e2%80%93-tour-veterans-class-of-2001-2002/

Part 3: http://tennisconnected.com/home/2012/12/30/australian-open-abstract-part-3-player-previews-muzza-djoker-and-co-class-of-2003-2005/

Part 4: http://tennisconnected.com/home/2013/01/01/australian-open-abstract-part-4-milos-and-the-dog-class-of-2006-2008/

Part 5: http://tennisconnected.com/home/2013/01/03/australian-open-abstract-part-5-novak-djokovic%e2%80%99s-achilles%e2%80%99-heel/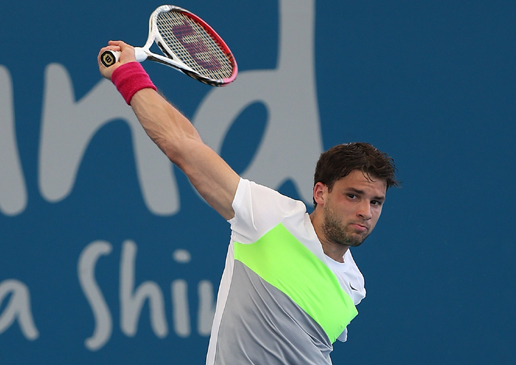 Part 6: The Dark Horses in the Australian Open Draw
Now that we have a fairly good idea of how good the Top-32 is, why not take a look at the statistics put up by some unseeded players who nevertheless stand a good chance of making the second week in Melbourne.  Without a doubt, their fates will be dictated in certain measures by the luck of the draw, but there is no denying they are all, without exception, players of immense talent capable of beating anyone on a given day.  Let's take a closer look:
Thomaz Bellucci (#33)
While Bellucci is currently ranked just outside of the Top-32, he will probably end up as one of the seeded players in Melboune due to players like Mardy Fish declaring forfeit ahead of the tournament.  The Sao Paolo resident reached a career-best #21 in the world back in 2010, but had a fairly mediocre season in 2011, going 25-25 on the ATP Tour and dropping back twenty spots in rankings.
Bellucci, despite his big serve and heavy left-handed forehand, does not like playing on hard court, as attested by his 39% career winning percentage on hard.  In addition, he owns a modest 3-4 record at the Australian Open and has never been past the second round.  As it stands, he may be susceptible to an early upset by one of the players below.
Marcos Baghdatis (#36)
For better or for worse, Marcos Baghdatis' career will always be indelibly linked to the Aussie Open.  Most remember him for his fairytale run to the finals in 2006, while some may also recall how he smashed three racquets on a change-over during last year's edition of the tournament.
In any case, something must be in the water in Melbourne.  Ten of Baghdatis' 13 career Grand Slam wins against higher-ranked opponents have come in Australia.  Nowhere else has Baghdatis been able to score two upsets or more in a row, but at the Aussie Open, he's done it three times (2005, 2006, 2009).  If he gets a good draw and manages get on a roll, who knows?
Feliciano Lopez (#40)
After having a career-best year in 2011 (41-27), Lopez went a mediocre 26-28 in 2012.  Some of it can be chalked up to bad luck.  He only won 35% of tie breaks played last season, compared to a career average of 53%.
Lopez had a good run in Melbourne last year, upsetting John Isner in five sets before bowing out to Nadal in the fourth round.  However, the Isner match was only his second win in Australia over a higher-ranked player since he beat #15 Alex Corretja back in 2003.  In addition, Lopez was seeded #18 this time last year compared to Isner's #16.  The 31 year-old may look to make a deep run in one of his final Grand Slam appearances, but history will unfortunately not be on his side on this occasion.
Nikolay Davydenko (#44)
After posting five consecutive 50+ win seasons (2005-2009), the Russian's fortunes have been on the downswing.  The turning point came during the quarter-finals of the Australian Open in 2010.  Davydenko was one of the favorites to win the tournament, having taken the Year-End Masters in London a month prior, and was up a set on Roger Federer before melting down inexplicably and losing the match in four.  He's never been the same, playing less than 50 matches in 2010 before slogging through '11 and '12 with a middling 0.500 record.
Davydenko made the second week in Melbourne five times between 2005 and 2010 (he didn't make the trip Down Under in 2009), but suffered first round upsets in the last two years at the hands of Flavio Cippola and Florian Mayer.  The Russian definitely has the experience to succeed this year, but does he still have the game and the belief?  He was only 4-12 against Top-20 competition in 2012.
Grigor Dimitrov (#48)
Dimitrov was certainly impressive in his recent win against Milos Raonic, out-performing the Canadian on the serve with an incredible 100% first serve points won (26/26).  The Bulgarian can hit all the shots, and most rightfully predicts him to be a top player in the near future
However, one hurdle Grigor will need to overcome is a lack of success to date against Top-20 players.  While he has done fairly well against lower-ranked players, he holds a 1-22 career record against Top-20 opponents, beating only Tomas Berdych in Miami last year.  Yet, there is reason for optimism.  Last year Grigor ran out of gas and lost 0-6 in the fifth set against 10th seeded Almagro after going two-sets-to-one up.  In 2013, the Bulgarian will be one year older, one year wiser and one year stronger.  If he manages to close out a tough match against a seeded player early on, he could go on a pretty good run.
Marinko Matosevic (#49)
If you think that Bernard Tomic is the highest-ranked Aussie right now, you'd unfortunately be wrong.  Ranked three spots higher than his compatriot, Matosevic has steadily made his way into the Top 50 without making any big splashes in the ways of major upsets (his only Top-20 win: Richard Gasquet in Eastbourne last June).
Matosevic has never won a single match in his home Grand Slam event, but then again, 2013 will be the first year he will be in the draw on the strength of his ATP ranking (he was a wildcard entrant from 2010 to 2012).  Last year in Melborne, he played a reasonably competitive match against Monfils, then ranked #14.  Armed with a solid baseline game and a strong personality, perhaps Matosevic will have what it takes this year to go a bit farther this year.
Bernard Tomic (#52)
For all of the controversy surrounding him, let it be clear that Bernard Tomic is a darn good tennis player, especially when he's competing in the Australian Open.  In the past two years, it took Federer (fourth round 2012) and Nadal (third round 2011) to take him down.  In the process, Tomic notched win against Dolgopolov, Querrey, Verdasco and Chardy, current members  of the Top-32.
Granted, with a tie break record of 11-1 at the Australian Open, you'd figure that Tomic had the benefit of a lucky break here and there.  Still, he's a healthy 65% in career tie breaks played, and has shown a knack for troubling even the best players in the world with his unorthodox game.  With his improved serve and new approach to the game, Tomic is able to cause some heavy damage to the favorites in the draw.
Lukas Rosol (#73)
Anyone who's seen the highlights of Rosol's win against Nadal at Wimbledon knows that the Czech has the raw power to blow anyone off the court.  Yet, last year, on his first trip to the Australian Open, it was Rosol who was blown off the court in a 0-6 0-6 2-6 first-round loss to Philipp Petzchner.
For a guy who served lights-out against Nadal last summer, Rosol doesn't actually hit that many aces (8.7% of first serves in 2012 compared to 10.8% for his compatriot Tomas Berdych) or back it up consistently well (74.0% first serve points won versus 77.5% for Berdych).  In the Nadal match, Rosol hit aces on 16.1% of his first serves and won 82.6% of first serve points.  If he was throwing down unplayable serves that day like lightning bolts from Mount Olympus, then the question is, can lightning ever strike twice?
COMING UP
Part 7 (Jan. 7th): Conclusion & AO 2013 Predictions