Getting Over the Hump: Blue chipper or "Never Were?"
It's an exciting time to be following tennis. In my humble opinion, the competition at the very top of the game has never been fiercer and its players, never more complete. As an experiment, try identifying a crippling weakness among any of the current top 10-ers. Will you find as chronic a liability as Sampras' backhand, Edberg's forehand or Connors' serve? Probably not. Yet, some incredibly talented players with limitless potential still manage to fall through the cracks mostly due to injury (Joachim Johansson comes to mind here) and/or a general lack of mental focus (Mark Phillipousis, for example). Let's take a look at a few names that I believe SHOULD be in the top 10 as we speak.
Richard Gasquet
Ranking (as of 4/8/09): 23
Career high thus far: 7 (July 07)
Breakthrough victory: v. Roger Federer, Monte Carlo 2005







What went wrong: A prodigy in every sense of the word, Gasquet's development was more precocious than any of his contemporaries. The artistic style of tennis he employs translates well onto any surface, largely betraying his mediocre 173-112 record after 7 years on tour. I thought he had asserted himself as a consistently brilliant player in the summer of 2007, when he overcame a 2-set deficit against Roddick in route to a career-best semifinal showing at Wimbledon. However, the very next year he choked away a 2-set lead against Andy Murray at the very same tournament, which was quite a feat as Murray was not particularly known for his mental toughness at that point. I find that both his serve and forehand motions are not as efficient as his terrific backhand, which reduces his power and consistency, especially under pressure, on both strokes. Still, Gasquet's terrific movement and all-court feel should get him a couple of Grand Slams, either on grass or on clay.
Marcos Baghdatis
Ranking (as of 4/9/09): 96
Career high: 8 (August 06)
Breakthrough victory: v. Andy Roddick, Australian Open 2006







What went wrong: I first took notice of Baghdatis' smooth baseline game at Flushing Meadows in 2004, when he pushed Roger Federer to 4 sets in a year where the Swiss completely annihilated Hewitt 6-0 7-6 6-0 in the final. I loved his enthusiasm for the game as well as his ability to take the ball early off of both wings. Unfortunately, I just don't think he has the tools to make it at the very top of tennis the way things stand. Great movement, the common denominator for every top-10 player at the moment, is not part of Baghdatis' repertoire. He cannot out-hit Nadal or Murray from the baseline nor match Federer and Djokovic's all-court variety. He's had some injury problems, but best case scenario, he could reach a couple of Slam semis and win a handful of Masters on hard court.
Tomas Berdych
Ranking (as of 4/8/09): 25
Career high: 9 (August 07)
Breakthrough victory: v. Roger Federer, Athens Olympic 2004







What went wrong: I was walking along the side courts at the Roger's Cup in Montreal in 2005, and witnessed the tall Czech step up and blast down the hardest flat forehand I have ever seen in my entire life. However, like a Yugo, Berdych's game can be firing on all cylinders one minute, and pouring smoke upside down in a ditch the next – as it was the case in Australia earlier this year when he squandered a 2 set lead against Federer. It's a shame, because at one point he seemed to have Nadal's number on hard courts. If he can string along enough victories and keep his wits about him, I can seen him having a few good runs at the US Open and at the indoor Masters.
Mario Ancic
Ranking (as of 4/8/09): 33
Career high: 7 (July 2006)
Breakthrough victory: v. Tim Henman, Wimbledon 2004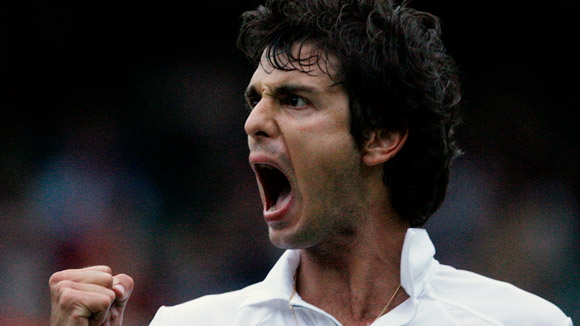 What went wrong: Like his compatriot Goran Ivanisevic, Ancic has all the tools to be a great player on faster surfaces. However, the opportunities to showcase his attacking game on something quick seem nowadays few and far between. Last year he was a dismal 1-8 against Top-10 players and his recurring health problems are not helping his cause. For now, his compatriot Marin Cilic has shown more upsides in his game. Along with a solid supporting cast of Karlovic and Ljubicic, this should be enough to bring a few Davis Cups to their home country of Croatia. As for Ancic's single prospects, only time will tell, but I am not entirely optimistic.